**Click here to join COMICBOXER Today! As low as $17.99/month!**
THANK YOU for participating in February 2015's MYSTERY BOX! It was our most successful month yet. How did this month's comics make the cut? Read below and find out!
Darth Vader #1 by Kieron Gillen & Salvador Larrocca – Marvel Comics
With Disney and Marvel behind the reigns of the Star Wars comic universe, you didn't think they were going to stop with just the one main, ongoing title did you? Nope! And we're thankful they didn't because we LOVE this new ongoing Darth Vader series set directly after the Death Star's destruction in Episode IV – a New Hope.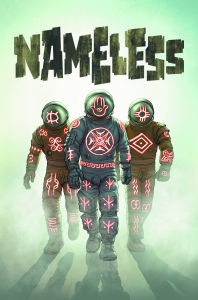 Nameless #1 by Grant Morrison & Chris Burnham – Image Comics
This is the first issue in a six issue miniseries by Morrisson & Burnham, and the first time they've collaborated on a book since their run on Batman and Robin. This book deals with the occult, the apocalypse, and the depravity of humankind. Sounds like a book that is a perfect fit for the writing of Grant Morrison! This book is also sold out of its 1st printing.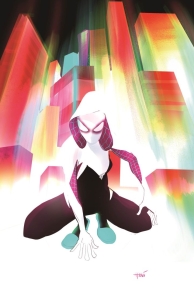 Spider-Gwen #1 by Jason Latour & Robbi Rodriguez – Marvel Comics

Spider-Gwen is taking the world by storm! Her first appearance in Edge of Spider-Verse #2 already fetches over $100 a copy online. Now you're in on the ground floor of her brand new ongoing series! The sky is the limit for this alternate universe Gwen Stacy. We're sure that more comic appearances, tv, and perhaps even movies are in her future!
Lady Mechanika #4 by Joe Benitez & Peter Steigerwald  – Aspen Comics
December 2011 was the last time we saw the super popular steampunk heroine Lady Mechanika in print, and Joe Benitez finally delivers with this much-anticipated 4th issue. We can't wait for the launch of his new Lady Mechanika series in April 2015, and this book serves as the perfect introduction.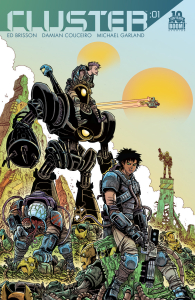 Cluster #1 by Ed Brisson & Damien Couceiro – Boom! Studios
Ed Brisson (Sheltered, Sons of Anarchy) continues to be one of the best new writers in comics, and he delivers here with Cluster #1 a sci-fi tale about a future where Earth relies on its convicts to form armies to better defend the planet from attacking alien life forms. This book is already sold out of its 1st printing.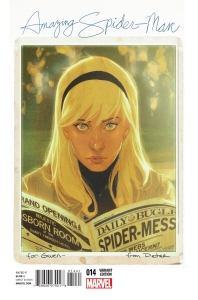 Amazing Spider-Man #14 by Dan Slott & Olivier Coipel: Phil Noto Variant – Image Comics
It's the conclusion of the Spider-Verse story! What better way to enjoy the ending to this major Spider-Man centric event than by flipping through the pages contained behind this beautiful Phil Noto variant cover which depicts a Polaroid-style portrait of Peter Parker's first girlfriend Gwen Stacy!
Also, check out this video of Kevin and Ricky talking about our recent Mystery Box picks!

Thanks for being a part of ComicBoxer. There are some major comic releases coming in the month of February and we know you'll all enjoy next month's mystery box! Happy New Year, and all the best in 2015!
Join us at ComicBoxer today for as little as $17.99/month for awesome comics delivered to your door each and every month! It's like a Comic Convention in a Box!