**CONTEST – Enter to win a FREE month of ComicBoxer. Click here to enter!**
THANK YOU for participating in September 2014's MYSTERY BOX! We're really excited about the picks we made this month, and we hope you will be too! People who were lucky enough to get in on September's box will be happy to know that one of the books we selected has been selling for as high as $30 on eBay this week! With our mystery boxes going for as little as $16.99 a month, that's quite the return on investment! How did this month's comics make the cut? Read below and find out!
Death of Wolverine #1 by Charles Soule & Steve McNiven – Marvel Comics
Charles Soule has recently signed an exclusive deal with Marvel Comics and he works here with the brilliant Steve McNiven on what is the most anticipated book of the Summer and Fall! This is the series where everyone's favorite X-Man finally meets his end. This book uses a technology Marvel calls "Holo-foil etching" to create the cool effect you see on the cover.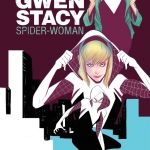 Edge of Spider-Verse #2 by Jason LaTour & Robbi Rodriguez – Marvel Comics
Edge of Spider-Verse has been one of the top-selling comics throughout the month of September, but THIS issue was almost an instant sell-out! Featuring the debut of the alternate universe "Spider-Gwen", this comic had everyone talking. Great writing by LaTour, incredible artwork by Rodiriguez, and a now CONFIRMED ongoing comic for Spider-Gwen, have driven prices of this book up to as much as $30 on sites like eBay – wow!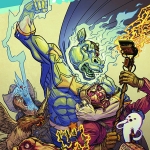 God Hates Astronauts #1 by Ryan Browne – Image Comics 
It's not all doom and gloom in the world of comics. If you're looking for a good laugh look no further than Ryan Browne's cult sensation "God Hates Astronauts"! The series was originally released as a Kickstarter-funded graphic novel. This all-new ongoing storyline features NASA vs. Astro-farmers and characters with names like "Admiral Tiger Eating a Cheeseburger" who is quite literally a tiger who is constantly eating a cheeseburger. How awesome is that?
Roche Limit #1 by Michael Moreci & Vic Malhotra – Image Comics
One of the more popular offerings from Image Comics in the month of September, Roche Limit tells the story of a space colony for which many had high aspirations. Unfortunately the colony is now a haven for "crime and terrible secrets". Moreci has proved himself an excellent storyteller through his Hoax Hunters series, and Malhotra's art is the perfect choice for this sci-fi noir story. We have high hopes for this book!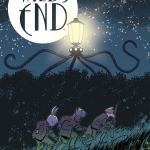 Wild's End #1 by Dan Abnett & I.N.J. Culbard – BOOM Studios
Boom Studios states that this book will appeal to fans of War of the Worlds, Mouseguard, and even Edgar Wright films such as Shaun of the Dead and World's End – and you know what? We wholeheartedly agree! This is a fantastic tale by former Guardians of the Galaxy writer Dan Abnett about Clive, Peter, and Gilbert's quest to fight back against an alien invasion in a rural English town in the 1930s. Oh, and all the residents of the town are animals. Sold!
Like what you see for September's picks? Wait till you see what OCTOBER 2014's box has in store for you! Join us at ComicBoxer today for as little as $16.99/month for awesome comics delivered to your door each and every month! It's like a Comic Convention in a Box!
We've also got an exciting contest on now until the end of the month – enter by retweeting us, following us, and sharing ComicBoxer with your friends! You could win a FREE month of ComicBoxer! Click here to enter now!