THANK YOU to all who participated in August 2014's MYSTERY BOX! You all should have received your comics by now (unless you are one of our international customers). We're really excited about the picks we made this month, and we hope you will be too! As a bonus for participating in this month's program, you will have received a special "Guardians of the Galaxy" foil sticker!
So what makes a great ComicBoxer comic? See our reasons for selecting each issue below!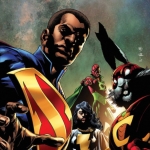 Multiversity #1 by Grant Morrison & Ivan Reis – DC Comics
Grant Morrison here is doing what he does best here – exploring DC's expansive multiverse and bringing focus back to the 52 different Earths that exist in DC lore. This is the first of a series of one shots that will be released over the next several months. Are we headed for another crisis?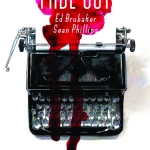 The Fade Out #1 by Ed Brubaker & Sean Phillips – Image Comics
The masters of noir storytelling are back in this captivating new book, which takes a look at scandal, mystery, and intrigue during 1940s Hollywood. The team behind "Fatale" are set to knock one out of the park again with this book. This is the first book from the Brubaker and Phillips since signing a 5-year deal with Image. This is a sure bet to be an issue collectors will covet.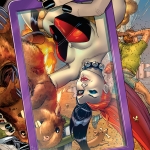 Harley Quinn #9 by Amanda Conner & Jimmy Palmiotti "Selfie Variant" – DC Comics
For the month of August, DC put out 22 special "Selfie" variants featuring characters on the cover taking pictures of themselves. We've included DC's current queen of comics Harley Quinn here as covers featuring her are always in demand.
POP #1 by Curt Pires & Jason Copland – Dark Horse Comics
This book supposes that the pop superstars that we idolize are merely products; creations of the world's richest individuals. These idols have bosses, and those bosses don't like it when work isn't performed to their specifications, and they definitely don't like it when one of their products escape! Artist Jason Copland and writer Curt Pires have both been named "Creators to Watch" in 2013 & 2014. BONUS: If you've ever wanted to see a certain Canadian music superstar get what's coming to him, this is the book for you. No, we're not talking about Burton Cummings.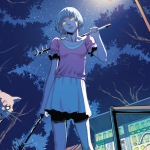 Wayward #1 by Jim Zub & Steve Cummings – Image Comics
This book is being heralded as "Buffy the Vampire Slayer" for the new generation, and that's not far off the mark. Written by Jim Zub, known for his work on Samurai Jack and Skullkickers teams with artist Steve Cummings to bring us the tale of Rori, a half-Japanese girl who just moved to Tokyo and may possess some supernatural evil-fighting powers! Lovers of teen paranormal drama and Japanese culture unite! This is the book for you.
Guardians of the Galaxy #1 (2013) by Brian Michael Bendis & Steve McNiven – Marvel Comics
Originally released in March 2013 this issue brought new life and energy to the Guardians of the Galaxy comic franchise in preparation for the movie which was released this summer. The team you fell in love with at the theater is all here: Star-Lord, Groot, Rocket, Drax, and Gamora along with a special guest – Iron Man! This book was a quick sell out when it was launched and we are happy to include it in this month's mystery box as a special thank you to our fellow ComicBoxers!
Like what you see for August's picks? Wait till you see what September 2014's box has in store for you! Join us at ComicBoxer today for as little as $16.99/month for awesome comics delivered to your door each and every month! It's like a Comic Convention in a Box!